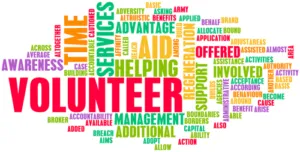 Volunteers are crucial to our success and there are a variety of opportunities available! Without them, we would not be able to offer our programs and services.
Our generous volunteers work daily to staff our Food Pantry and the Free Store so we may serve the community.  Our Project Lift after-school program relies on the generosity of many volunteers, including Saratoga Springs High School students, to aid with creating food bags, organizing school supply giveaways, and the holiday assistance program.  For the students, it's a great way for them learn the value of community service and  to give back.
Our goal is have volunteers who are interested in giving back to their community in meaningful ways and we strive to provide a variety of volunteer options to match the interests of individuals.